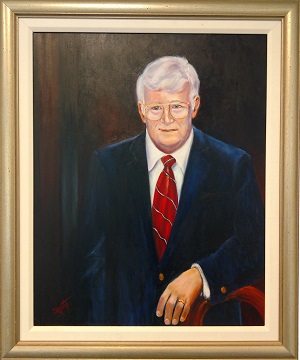 With the development in the 1950's of the Scale-O-Matic Dough Divider Harold Atwood (1918-2002), founder of AM Manufacturing, began its legendary role as a leader in the baking industry.
Prior to founding AM Manufacturing, Mr. Atwood came up with the idea to streamline the hat-making process. He patented machines which automatically sanded down the brims on hats in minutes, eliminating the time-consuming process of doing the work by hand. After achieving success with this invention, Mr. Atwood began designing equipment which would set the course of his career, with his interest now turning to the food and baking industry. He entered the industry in the mid-1950's when he developed a hydraulic pie crust maker that pressed uniform shells.
He continued his work and soon, after the invention of the Scale-O-Matic Divider, Mr. Atwood set his sights on the bagel industry. Hoping to eliminate the tedious process of dividing dough and rolling bagels by hand, Mr. Atwood invented a single machine to evenly divide dough, run it along a conveyor and automatically shape it. This new labor and time-saving machine, called the Scale-A-Bagel, set the early growth stages of AM Manufacturing.
During the past five decades AM, short for Atwood Machine, has been at the forefront of automating the bakery business with inventions that have turned pizza crusts, tortilla shells and bagels into mass-produced foods. Its equipment can be found in bakeries, commissaries, restaurants and pizza parlors throughout the world.
Currently, the Atwood family still owns AM Manufacturing. Operating now as a woman-owned business, AM owners Claudia Kunis and Holly Rentner have taken over the company's reigns and are moving it into the 21st century.
Largely due to its cutting-edge innovations and growth, AM moved from its original location in Dolton, Illinois in late 2014 into a larger facility in Munster, Indiana. The new plant space provides additional assembly capability as well as a full product display area.
The new AM Manufacturing plant is conveniently located in Munster, Indiana (USA), a short drive outside of Chicago. It is located within a 50 minute drive from Chicago's O'Hare Airport, and a 40 minute drive from Chicago's Midway Airport.
AM Manufacturing is proud of its long-standing relationships, which it has established with some of the top names in the baking industry. Its commitment to quality, and its responsiveness to every customer, have made AM Manufacturing an industry leader in baking equipment.