AM PIZZA CRUST PRODUCTION LINE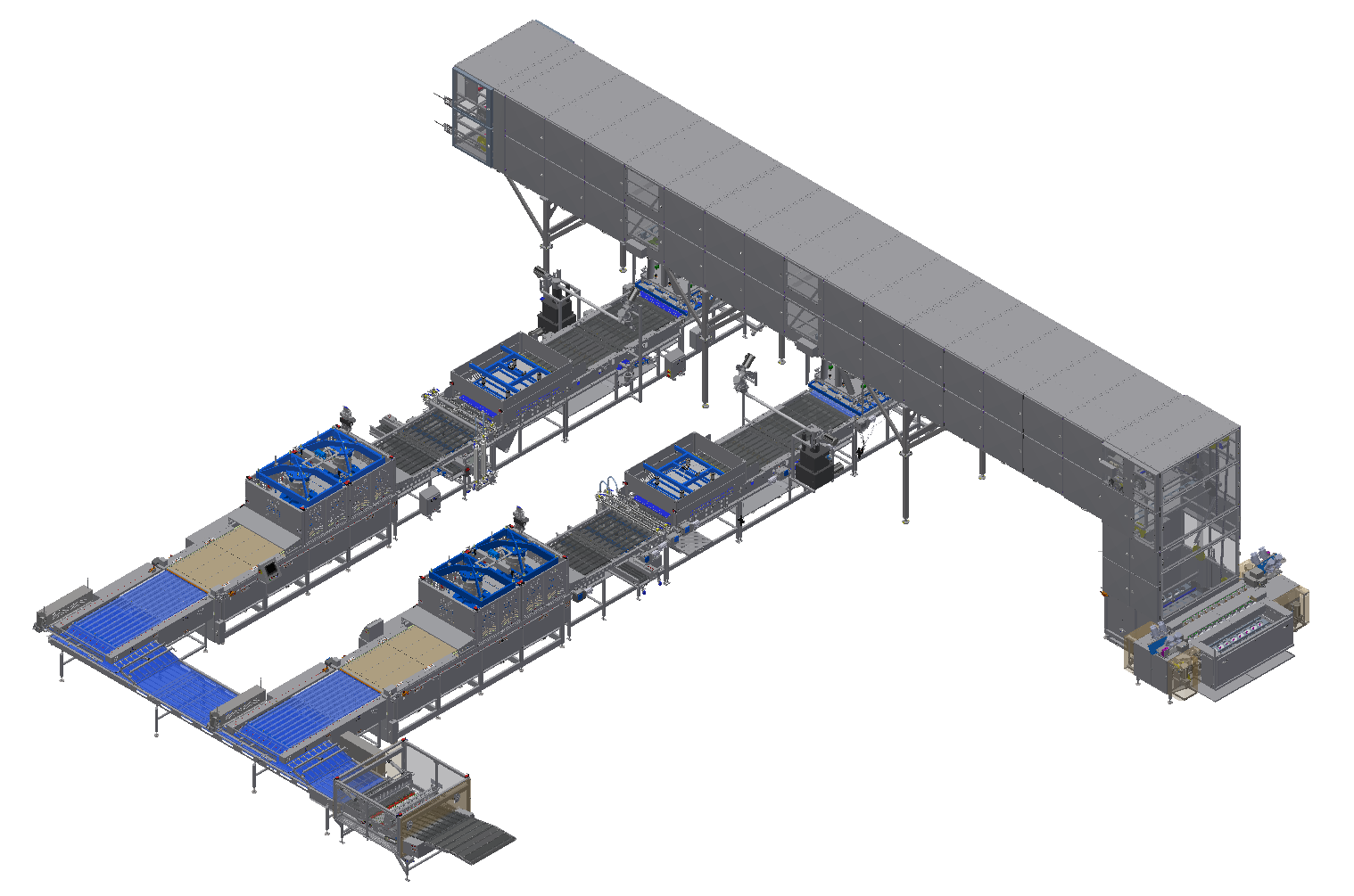 AM Manufacturing's Tor-O-2000 automatic pizza crust production system is the answer to all your pizza production needs. High quality, high volume and cost efficient, this fully automated hot press system features dough make-up, controlled proofing, automatic loading, pinpoint press adjustments, precise docking followed by baking / freezing and packaging.
AM's custom designed pizza press line employs a programmable logic controller (PLC) installed within a touch screen or computer network environment for easy system control and programming. Every step in the production process is controlled through the PLC, insuring consistent, uniform pizza crusts every time, while allowing real time reporting and system status updates. This results in more flexibility in dough formulation, greater quality control and a better product.
A closer look at this system reveals savings in cost, time and labor while producing a consistent quality crust. The Tor-O 2000 pizza crust system can be fully automated or designed for manual operation. If a completely automatic line is not desired now, we can design a system that fits your immediate needs and make it expandable for future growth and automation.
How It Works:
Once dough is properly formulated and mixed, it is loaded via a bowl elevator into the chunker. The chunker divides the dough into bulk amounts and are fed into the dough divider / rounder. The divider separates the dough into portions of the desired weight and sends the piece to a rounder. After the dough piece is rounded into a ball it is fed into an environmentally-controlled overhead proofer.
It is critical to establish a proof period in an environment befitting the style and texture of the desired crust. The AM Tor-O 2000 pizza line's proofing system is tailored to fulfill each customer's particular needs and requirements.
After the dough balls have been properly proofed, they are loaded and indexed into the dough alignment area where they are exactly positioned for entry into the heated pre-press. The pre-press flattens the dough ball while adding low levels of heat, allowing decreased cycle time and increased throughput. For installations where cornmeal is to be used, a larger contact area for cornmeal adhesion is created. The pre-pressed dough is then indexed onto the infeed belt of the hot press and taken into the pressing area. A heated die is presses onto the dough, forming it into the shape of the die cavity. Through a combination of heat, gentle pressure and appropriate dwell time, the dough ball is transformed into the desired pizza crust shape in seconds. All AM dies are coated with a nonstick material for easy release and clean-up. The crusts are then perforated by the docker and conveyed into an oven or freezer.
The Tor-O 2000 automatic pizza crust production system produces a higher quality, more consistent crust than is possible using sheeting, die cutting or cold-pressing methods. Consistent quality control, increased flexibility, cost cutting efficiency and higher profit margins are a few of the features of this state-of-the-art production line. AM Manufacturing provides full consultation and servicing for all areas of press development. We understand that every project is subject to the particular needs of the customer. Whether it's equipment requirements, formulation development, installation, start-up or service, AM Manufacturing is there with our engineering and manufacturing expertise. For more information on how we can help you produce your pizza crust, call us today!